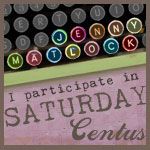 This is a new thing at
Jenny Matlock's
called
Saturday Centus
. On Saturday she gives a prompt (which is the first paragraph below - in bold) and then we have to come up with 100 words or less after it...a sort of creative writing exercise, which is brain stimulating. I need all the brain stimulation I can get so I don't get all cranky and forgetful and delusional when I get older. (Well, I'm sorta' already there - so better late than never on stimulation.)
So, here's my entry...hope you all enjoy it! Click on
Jenny Matlock
and you can read other people's entries. Should be fun!
-------------------------------------
The Prompt:
My untied shoelace changed my life. As I leaned down to re-tie it, I had kicked away a few leaves. When I turned my head slightly to look where the leaves had been, I was astonished to see a rubber-banded wad of hundred dollar bills nestled in a little indention in the muddy ground.
Holy raining fortune, Batman! Is this a mirage? Is this real? Is this a sick joke?
These and other questions raced through my brain, ending with...."What the heck do I do NOW??!!??"
The angel on my right whispered, "Do what's right...as in find the owner... donate it to charity...Give it away."
The devil on my left tempted with, "Keep it. Spend it. Splurge on sinful pleasures....No one will know...."
Who won? The angel? Or the devil?
I won't tell...but it was life-changing....!
And it felt good.
What would YOU do???
Peace.