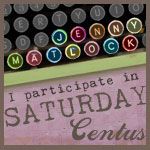 The small Cessna 172 picked up speed as it roared down the runway, Sara at the controls, the flight instructor beside her...
...Sara could feel the thrust of power in her hands as she pulled on the throttle, as well as the vibration of the powerful engine.
She touched the instruments in front of her at first in wonder and curiosity, and then in anticipation of the thrill that lie ahead of her.
Antonio watched all of this with a glint in his eye and a sardonic smile on his face…knowing that the months of patience…of gentle instruction…of guidance…were finally coming to fruition for both of them.
"I never knew it could be like this," Sara murmured.
"Oh, sweetheart…the best is yet to come," Antonio replied.
--------------------------------------------------------------------
This is the regular Saturday thing at
Jenny Matlock's
called
Saturday Centus
. On Saturday she gives a prompt (which is the first paragraph above - in bold) and then we have to come up with 100 words or less after it...a sort of creative writing exercise.
I've apparently been reading too many Harlequin romances lately; hence, my entry...!
Click on
Jenny Matlock
and you can read other people's entries. Everyone usually comes up with some pretty cool stories!